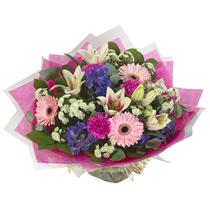 Shop Online
At Hot we love making bouquets and judging from the response we get you love ordering and receiving them! We differ from other companies in that we don't offer pre designed 'soulless' bunches. We love to create bouquets using the freshest seasonal flowers with our years of expertise and we know you love something different and unusual. Leave the designs up to us we know you'll be thrilled with the results.
Unlike many other florists all our bouquets are sent out as aqua packs in water, better for the flowers and easier for the recipient.
If you particularly want something included in your bouquet please call to discuss and we'll always try to assist.
For funeral tributes to buy online please Click Here